Current
Board of Directors
Click on photos for full bios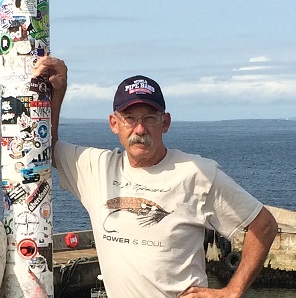 Bob is retired from 38 years with Forest Service/Bureau of Land Management, wherein he was a falling/dozer boss in wildland firefighting (20 years), wild horse wrangler (5 years), Range Management Specialist (30 years), and also surveyed, worked in invasive species management, and timber contracting. Bob's hobbies include trout/steelhead fishing, fly tying, road cycling, playing the bagpipes, and cooking.
Bob, Terri, and son Geoff moved to Jacksonville in 1989. Geoff and his wife Kerry live and work in McMinnville, Or.
Bob joined the Jacksonville Woodlands Association (JWA) and Community Emergency Response Team (CERT) as a way of giving back to the community that he greatly appreciates. Bob's 38 year career lends itself to both these volunteer organizations.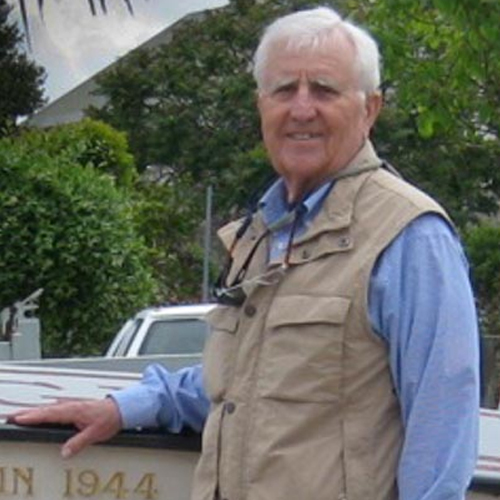 John and his wife, Sue have lived in Jacksonville for 12 years. He is a former member of the Jacksonville Community Center Committee. John is a retired highway engineer, having worked as a surveyor, inspector and project
engineer for several public agencies during a 43 year engineering career.
John has been a member of the Woodlands Board for over 8 years and currently serves as the Treasurer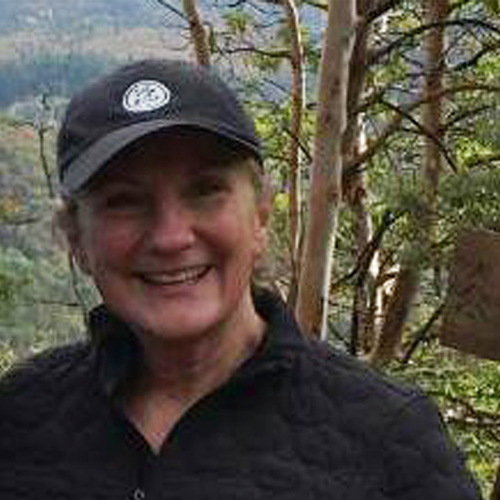 Kandee is a fifth generation Oregonian who moved to southern Oregon in 1982. She is a retired teacher, completing her career in the Central Point School District.
She is a long-time jogger and hiker and for years has been drawn to the Woodlands trails so becoming a Woodlands' Board member was a natural transition when she moved to Jacksonville with her husband, Mike, in 2011. Mike is also a retired educator and shares her enjoyment of the Woodlands trails.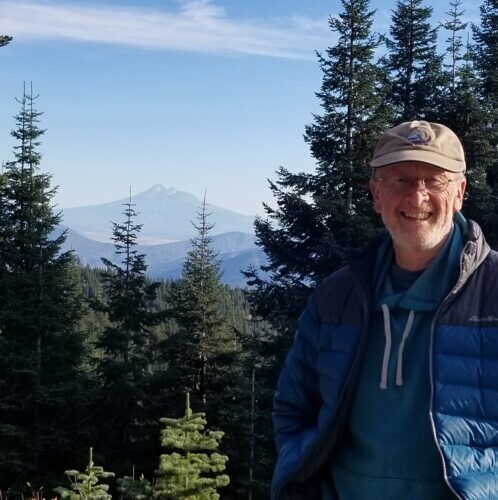 Michael moved to Jacksonville, with his wife, Leslee Parr, in June of 2017. Both Leslee and Michael are retired faculty members from the Department of Biological Sciences at San Jose State University.
At SJSU, Michael was the program director of Field Studies in Natural History. This multidisciplinary program, run through the College of Science, has a long history of introducing both students and the general population to the natural world. In particular, Michael spent 15 happy years directing spring break programs in Death Valley, CA. He also enjoyed backpacking to sites from the southern Sierra Nevada to the Marble Mountains near the Oregon border. It's easy to understand that devoting time and effort to the Jacksonville woodlands is a natural expression of Michael's history.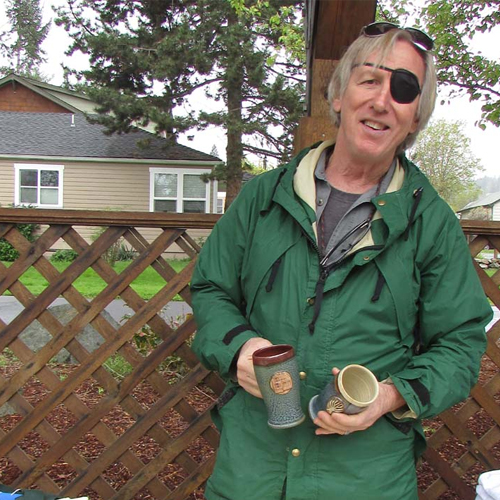 Ray Foster has been a Jacksonville resident for more than 30 years and is one of the founding members of the Jacksonville Woodlands. He's a retired high school art instructor, holding teaching degrees from Southern Oregon University and Portland State.
Foster is an practicing artist and has designed most of the Woodlands t shirt graphics. Ray recently built a pottery studio on a hillside that looks directly over much of the Woodlands trail systems. He was motivated initially to maintain the small town ambience afforded by saving undeveloped property.
A lifelong runner and hiker, he realized the trail system also greatly enhanced the joy of visiting and living in this beautiful town.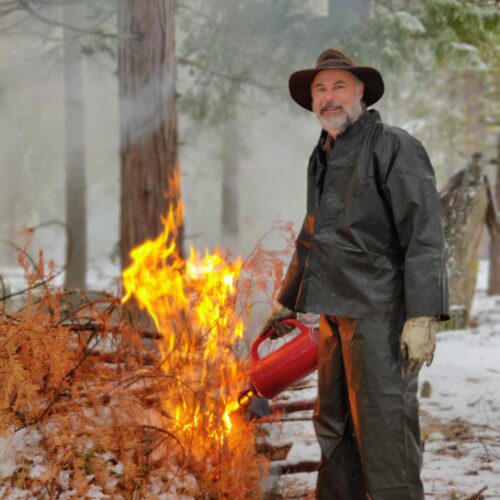 Chris Johnson grew up in Oak Park, Illinois and gained an appreciation for the outdoors in Boy Scouts. He earned a Forestry degree at Southern Illinois University and began his forestry career with the Bureau of Land Management (BLM) in Salmon, Idaho. After two years, he moved to a silviculture position at Medford BLM and lived in the Rogue Valley for 18 years.
Chris became interested in wildland fire and fuels management and made that his primary career focus as he moved into a fuels specialist position. He moved on in 2006 and held a fire management officer position on the Huron-Manistee National Forest in Michigan for three years and then returned to Oregon on the Umatilla National Forest, in Pendleton, as a Deputy Fire Staff Officer where he retired in 2017. Chris served on a National Incident Management Team as a wildland fire behavior analyst and division supervisor.
Chris, his wife, Becky, and their two boys moved to Jacksonville in 2018 and have enjoyed the hiking trail systems that Jacksonville offers. He also enjoys home improvement, camping, hunting and fishing. He joined the Jacksonville Woodland Association as a Board member in 2018 and works to assist the Board with fire and fuels management issues in the woodlands.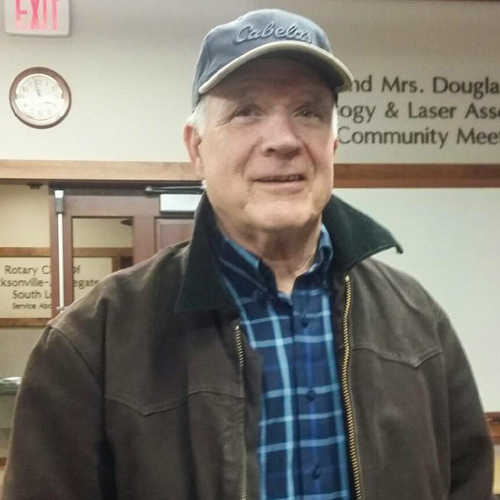 Gary Sprague is retired from teaching chemistry and astronomy for 35 years, mostly at North Medford H.S. His wife, Louise, an RN, is still actively working at Providence.
The two of them have lived here in the Rogue valley for 42 years and enjoy the woods and scenery of Southern Oregon. Their family includes three boys and their wives, and 6 grandchildren.
Gary joined the Woodlands Board at the same time as Bob Budesa and really appreciates the woodlands and trails surrounding Jacksonville.
As chairman of the Forest Park subcommittee, he is also a Jacksonville Forest Park volunteer.
engineer for several public agencies during a 43 year engineering career.
John has been a member of the Woodlands Board for over 8 years and currently serves as the Treasurer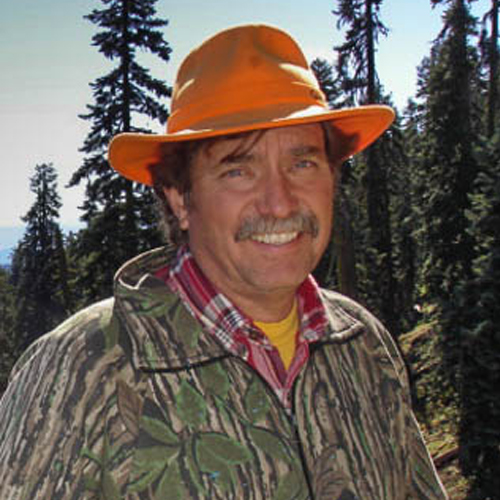 Cliff Oakley grew up in the Rogue Valley and has lived in Jacksonville for the past 6 years. He has a Masters degree in Biology from Southern Oregon University and worked as a wildlife biologist for the BLM before switching to the U.S. Fish and Wildlife Service in 1999. He retired from the fish and wildlife service in 2006 and has ran a wildlife consulting business until this year.
I love to hike and be out in the woods be it fishing on some remote stream or camping in one of Oregon's beautiful wild areas. So when I moved to Jacksonville and found the Woodlands trails right outside my door I immediately started to hike, run and ride by bicycle on those trails. I also enjoy getting out to work with people and nature so it was a natural for me to get involved in the Jacksonville Woodland Association. I have been a Board Member since 2014.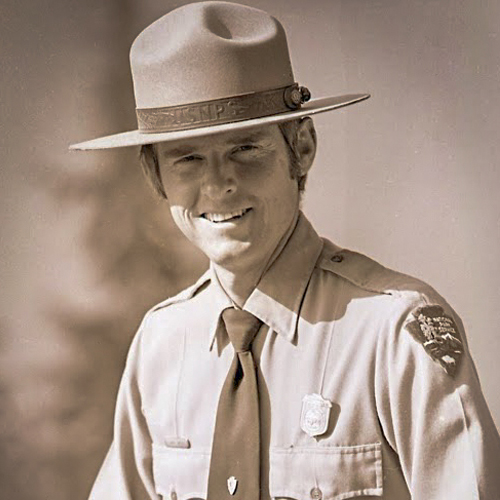 Larry and Linda Smith have lived in Jacksonville since 1973. Larry began his teaching career in 1966 when he began teaching 5th grade at Jacksonville Elementary School where he remained for 33 years. Presently Larry is semi retired from teaching and now works as a substitute elementary teacher for the Medford School District. Larry was a National Park Ranger at Crater Lake for 23 summers. He presently heads up Crater Lake's Winter Volunteer Ranger Program. Larry and Linda have 2 adult children and seven grandchildren.
Larry is a founding member of the Jacksonville Woodlands Association having served as a board member, vice president, president, and currently as Executive Director.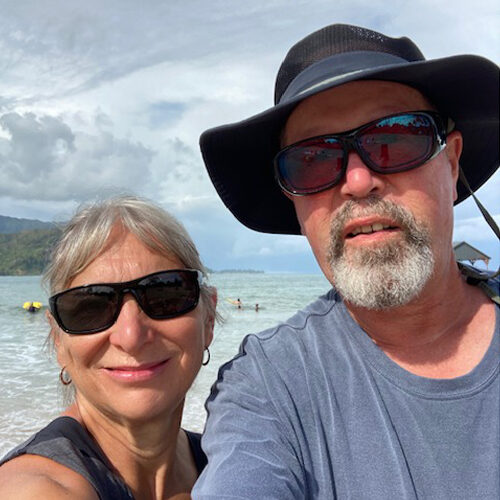 Bill and Belinda Trageser moved to Jacksonville in 2014 to be closer to their daughter and her family who also live in Jacksonville. As avid runners and walkers they fell in love with the Woodlands trails. Bill and Belinda are originally from Humboldt County California where Bill was a Real Estate Appraiser and Belinda was a gardener at Humboldt State University. They joined the Jacksonville Woodlands Association to give back to the community.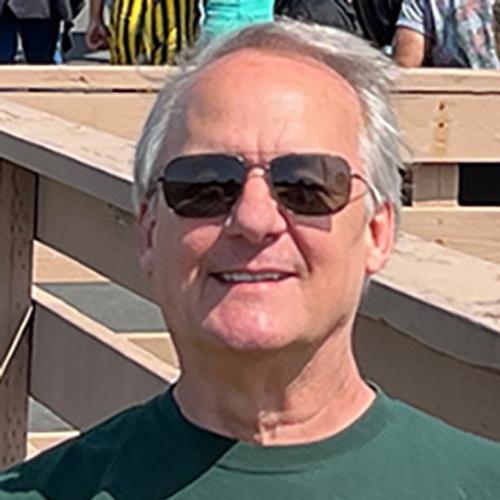 Dan was Born in Pasadena, CA, moved to Sonoma County CA for college & employment, then came to Southern Oregon in '89. Business: Electronics, mostly materials management, contracts & IT, then ran a sportswear manufacturing business, plus other ventures. Dan spends time these days making custom "memory quilts" for folks all over the world. Dan was a contractor in construction, remodeling, tile & hardwood.
On the volunteer front, Dan has been a member of several non-profits and councils, also serving on the Board and as Chair. Subjects were mostly for community improvement, small business development and public safety.
Dan was treasurer of the Wolf Creek Rural Fire Protection District. One notable district accomplishment was a successful fuels reduction program in the broad community on both private and public lands.
Dan enjoys photography, pottery, stained glass, hiking, rafting, boating, fishing, snorkeling, gardening, golfing, live music & movies, cooking, sewing and reading. He is currently the Treasurer for Jacksonville Woodlands Association.